Big throughput in a compact footprint: that's today's micro-fulfillment center in a nutshell. Thanks to autonomous mobile robots (AMRs) or automatic guided vehicles (AGVs), you can maximize order volumes while minimizing last-mile delivery time and distance.
Did you know that gloss, texture, and wear on a floor can all effect the ability of the robot to run at optimal levels? Cornerstone Specialty Wood Products® has been at the forefront of testing and innovating flooring panels for the Material Handling Industry since 1994. In 2007, we began providing ResinDek® panels for robotic applications. Much of our initial research and development occurred with AGVs. In the last decade, we have provided a variety of ResinDek flooring products to numerous Automated Guided Vehicles (AGV) and Autonomous Mobile Robots (AMR) manufacturers for their testing labs. As a result, millions of square feet of ResinDek panels are in service worldwide with robotic traffic in distribution centers, warehouses, retail environments and micro-fulfillment centers.
RESINDEK
®

FLOOR PANELS FOR ROBOTIC MICRO-FULFILLMENT CENTERS

ResinDek composite engineered wood flooring panels have the proven structural integrity to support dynamic and static pallet jack load limits from 2,000 – 8,000 lbs and the rigorous demands of AGVs and AMRs.

We recommend that a minimum of 20-gauge corrugated metal B Deck be used on all ResinDek® flooring projects (except for Xspan®) and a minimum of 18 gauge when live and dead loads exceed 2,500 lbs. ResinDek Xspan and Xspan FR do not require a corrugated metal deck. ResinDek flooring panels LD, MD and HD are ¾" thick, ResinDek Max is 1-1/2" thick, and ResinDek Xspan and Xspan FR are 1-1/8" thick.
---
RESINDEK
®

FLOOR FINISHES

If you want to keep AMRs and AGVs running smoothly on your micro-fulfillment platforms choose either ResinDek panels with the TriGard® ESD finish or MetaGard® SST encapsulated steel. Both have been extensively tested with robotics for coefficient of friction, wear resistance and light reflectivity in accordance with ANSI standards.

FOR AGV & AMR ROBOTIC TRAFFIC
---
RESINDEK
®

SHELVING SYSTEM

ResinDek Shelving System can be designed to accommodate shelf heights of 6" to 20", shelf depths from 8" to 60", and vertical divider spaces from 4" on center to 48" on center. The custom machining allows for the possibility of the vertical dividers to be moved without the use of hardware, which provides a great deal of flexibility in the design of vertical divider spaces between shelves or within an individual shelf bay.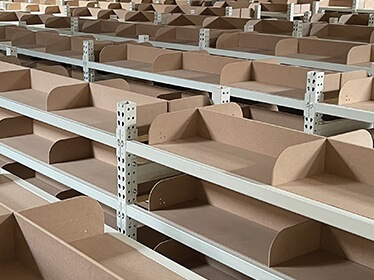 ResinDek® Shelving System
RELATED VIDEOS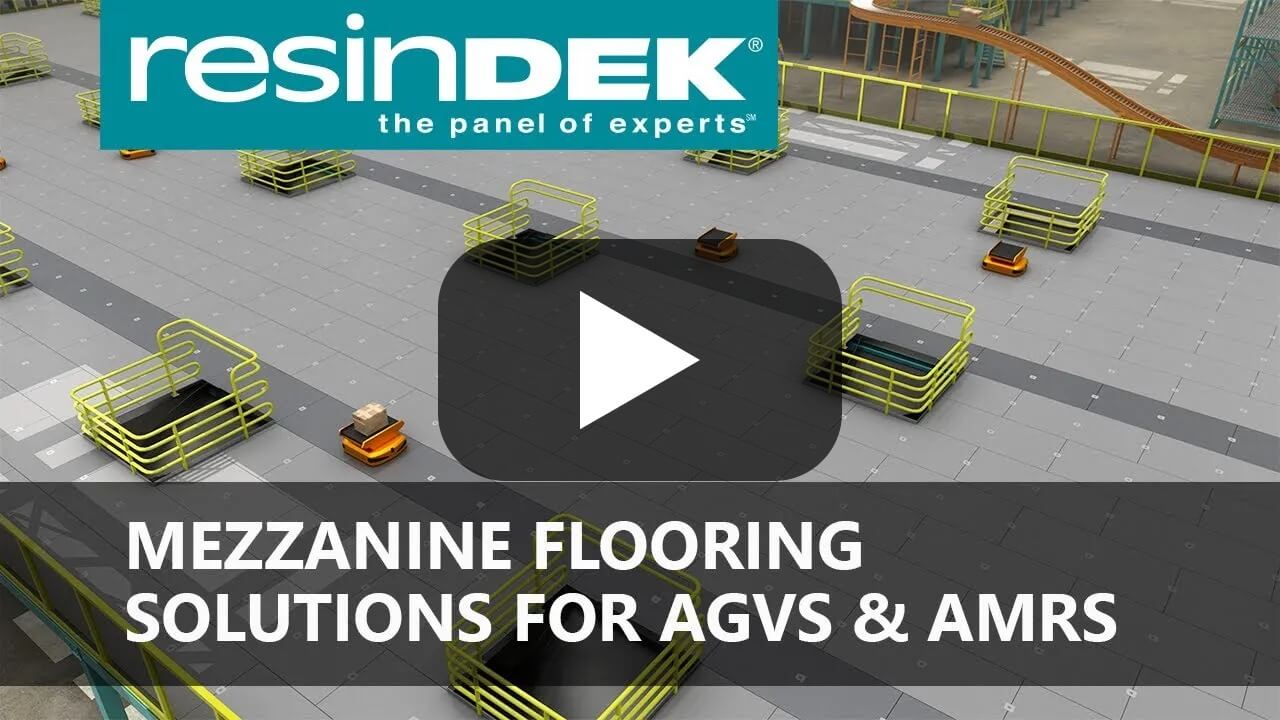 Elevated Flooring Solutions for AGVs and AMRs | Video Length: 2:54
RELATED SUCCESS STORIES