RESINDEK
®

VERSUS CONCRETE FLOORING
SAVE UP TO $5/SQFT* OR MORE WITH TAX BENEFITS WHEN USING RESINDEK FOR YOUR MEZZANINE DECKING VS. CONCRETE MEZZANINE
Backed by a 10-year product warranty, ResinDek mezzanine decking panels have the proven structural integrity and the strength you associate with a concrete floor yet offers significant savings while providing a more ergonomic and environmentally friendly floor.
Experts Weigh-In on Mezzanine Flooring Options [ResinDek® Panels vs. Concrete] Concrete mezzanine flooring vs. composite engineered wood flooring for mezzanines – here's what you need to know. There are many things to consider when choosing a mezzanine floor.
Will the flooring need to be flexible for future modifications?
Is saving time and money important for your project?
Is an ergonomic solution required?
Will robotic fleets be present?
How will the flooring product impact the environment?
To answer these questions and more, this video includes feedback from industry experts to help highlight the differences of ResinDek® mezzanine decking panels compared to concrete on elevated platforms. Be sure to subscribe to our channel to learn more about new products, to get our latest how-to videos, and to learn more about ResinDek products.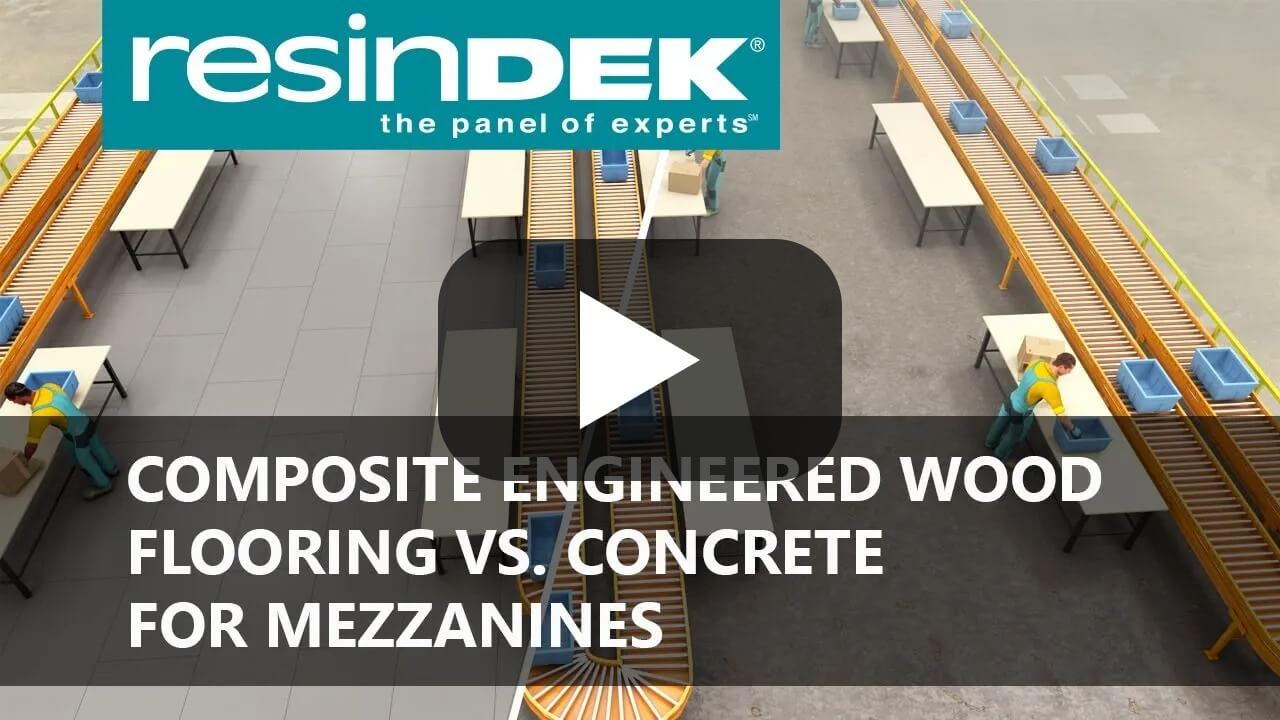 Experts Weigh-In on Mezzanine Flooring Options [ResinDek® Panels vs. Concrete] | Video Length: 3:26
Cost Savings & Speed of Construction
An independent cost comparison study published by Rescorla Engineering found that an elevated platform with ResinDek flooring was up to 34% less expensive than the concrete alternatives. In fact, it is quite common to save up to $5/sqft* or more with tax benefits when using ResinDek instead of concrete. How?
Less Weight + Less Footings + Less Steel + Less Time = Real Savings
ResinDek panels are 85 - 90% lighter than concrete which allows for less steel in the support structure and footings may be significantly reduced or eliminated.
Elevated platforms using ResinDek flooring can be designed with an allowable deflection limit of L/240, whereas concrete's allowable deflection is limited to L/360: this reduces the amount of steel required in the support structure.
Construction time can be reduced by as much as 3 - 5 weeks depending upon the size of the job.
Concrete floors need time to cure, ResinDek is supplied with a factory finish.
The material cost per square foot for ResinDek is less than that of concrete
Low Maintenance, Flat and Level Surface
Concrete mezzanine floors produce dust, are required to be sealed, and often crack. Once ResinDek panels are installed little maintenance is required. In addition, individual panels can be removed without having to refinish an entire floor.
Unlike concrete, ResinDek is supplied with a consistent factory finish, resulting in superior floor flatness, better levelness, proper surface roughness, and often higher coefficient of friction. These attributes can result in outstanding operating efficiencies of automated guided vehicles and autonomous mobile robots.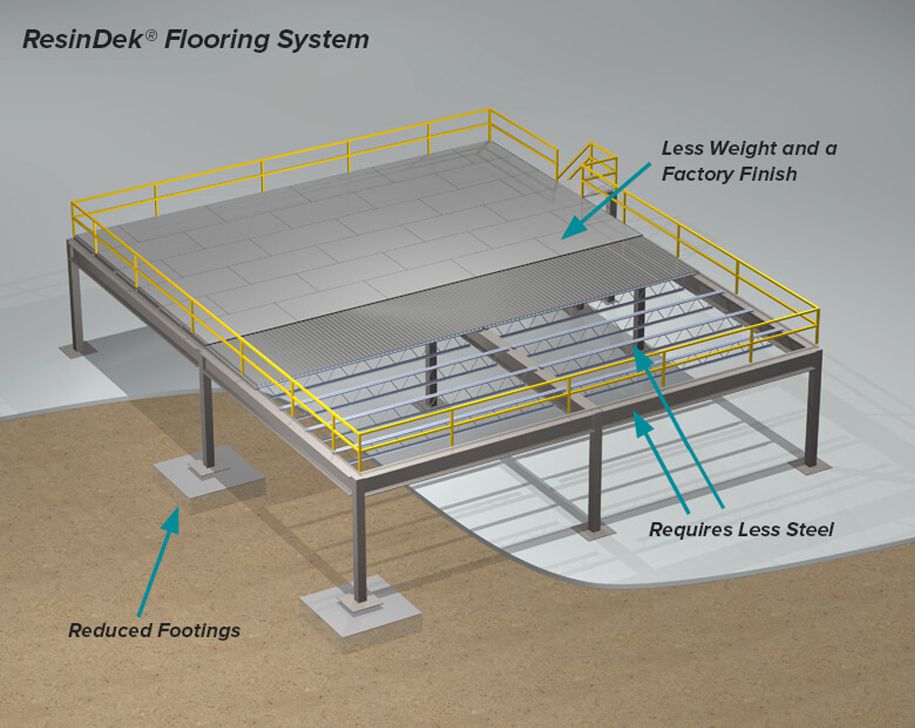 * Actual savings may vary based on project scope and location. Tax benefits are based upon estimates and the ability to categorize the mezzanine as equipment rather than a part of the building structure. Consult local building codes and tax advisors before using any information provided.
Ergonomic Flooring Solution
ResinDek mezzanine decking panels provide added benefits of increased worker comfort and decreases the risk of work injuries and insurance claims. Research conducted by The Ohio State University's Institute for Ergonomics found that an elevated platform with concrete increased tibial shock by 7.8% compared to a floor with ResinDek. Bar grate increased tibial shock 10.6% relative to a work platform with ResinDek flooring.
ResinDek Flooring is Environmentally Friendly
Research conducted by Coldstream Consulting found that installing a 50,000 square foot mezzanine with ResinDek composite engineered wood panels is the equivalent to taking 56 non-electric cars off the road for a period of one year, thus saving consumed energy and reducing pollution, while generating 67% less smog than concrete. Additionally, ResinDek composite engineered wood flooring produces 50% less hydrogen ions than concrete.
---
OUR MEZZANINE DECKING SUCCESS STORIES
Success Story #1 - Customer Saves $644,000 Using ResinDek Instead of Concrete
A large sporting goods retailer had used both ResinDek and concrete for elevated platforms before. They needed two identical mezzanines at their Katy, Texas DC. So the question became, what type of flooring would provide the best value? Two identically sized mezzanines were constructed at the same DC and a cost analysis was performed.
Total savings with ResinDek was $644,000. The ResinDek product gave us some real price advantages, and we were able to pull in savings in 3 areas; the footings, the structural steel, and the erections costs. Using ResinDek also allowed us to use smaller diameter piers with smaller bells on the caissons.
LEARN MORE
Success Story #2 - ResinDek Saves Time, Money and Provides a Level Platform
A project located in Manchester, U.K. had a three level mezzanine with 222,000sqft per level. The flooring system that was selected was 3/4" ResinDek HD with the TriGard® finish and corrugated steel decking. During the final walk through, the Main Contractor made the following comments:
"The ResinDek flooring system offered a substantial savings over elevated concrete platforms, which was the only real alternative for this project. The levelness of this floor (plus or minus 1/8" across 222,000sqft continuous surface) is just not something that we can normally produce with concrete".
"The speed of installation was impressive. ResinDek goes down quickly, and the floor, once installed, allows for instant structural access for subsequent trades. Concrete, on the other hand, requires 10 days of curing time per bay, along with additional screeding and levelling work. My guess is that we saved a solid 5 weeks of construction time by using ResinDek instead of concrete".
"We are sold on the superiority of the ResinDek Flooring System compared to a traditional concrete floor!

ResinDek

®

Flooring Saves Time, Money and Provides a Level Platform
Additional Case Studies
---
Mezzanine Decking Panel FAQs
A: Mezzanine floors can be made from a combination of different materials including wood, concrete and stainless steel. Mezzanine floor construction depends on the type and use of the mezzanine. If you want a durable, light, strong solution but don't want to break your budget, you should use RedinDek panels for your mezzanine decking.
A: No, you do not need planning permission to build a mezzanine since most mezzanine floors are constructed to be mobile. Though, you will need to obtain Building Regulations approval, no matter the size of the mezzanine.
A: The minimum height requirement for a mezzanine floor is 14.7 feet between the ground floor and the ceiling.
A: ResinDek® mezzanine deck floor panels can hold anywhere from 2.8 - 7.6 lbs per panel.