Do your employees have a hard time rolling dollies or carts over plank grate or bar grate floors? Are your cracks in your elevated concrete warehouse floor a trip hazard or making it difficult for AGV and AMR robotic traffic to maneuver over? Do you have laminated floors, such as poly deck, that are delaminating? Is your plywood floor worn-out and difficult to clean?
If you answered yes to any of these questions, then ResinDek industrial flooring panels are the solution to your warehouse flooring repairs. With ResinDek flooring panels your floor repairs can become a thing of the past. ResinDek panels can be installed over or in-place-of damaged flooring surfaces.
BAR GRATE OR PLANK GRATE
THE REWORK SOLUTION FOR BAR OR PLANK MEZZANINE GRATE FLOORS
Bar or Plank Grate Flooring Problems
Rolling pallet jack loads are difficult to maneuver on steel grate flooring and is not suitable for robotic traffic
Moving products across metal grate flooring is loud and noisy
Unforgiving surfaces may cause workplace injuries
Trip hazard and objects can fall through the steel grate floor
Working on bar grate is the equivalent to adding 18 lbs. to your body compared to ResinDek
Mezzanine grate floors are not suitable for workstations
Reasons to Choose ResinDek® for your Damaged Warehouse Flooring Solution
Can be installed over bar or plank grate or in-place of it
Is engineered for rolling loads
Is a solid flooring surface, thus prevents items from falling to the level below
ResinDek mezzanine flooring is worker-friendly and ergonomic, see our website for additional information
ResinDek flooring panels are backed by a 10-year product warranty
See How You Can Install ResinDek Flooring Panels Over Bar Grate Flooring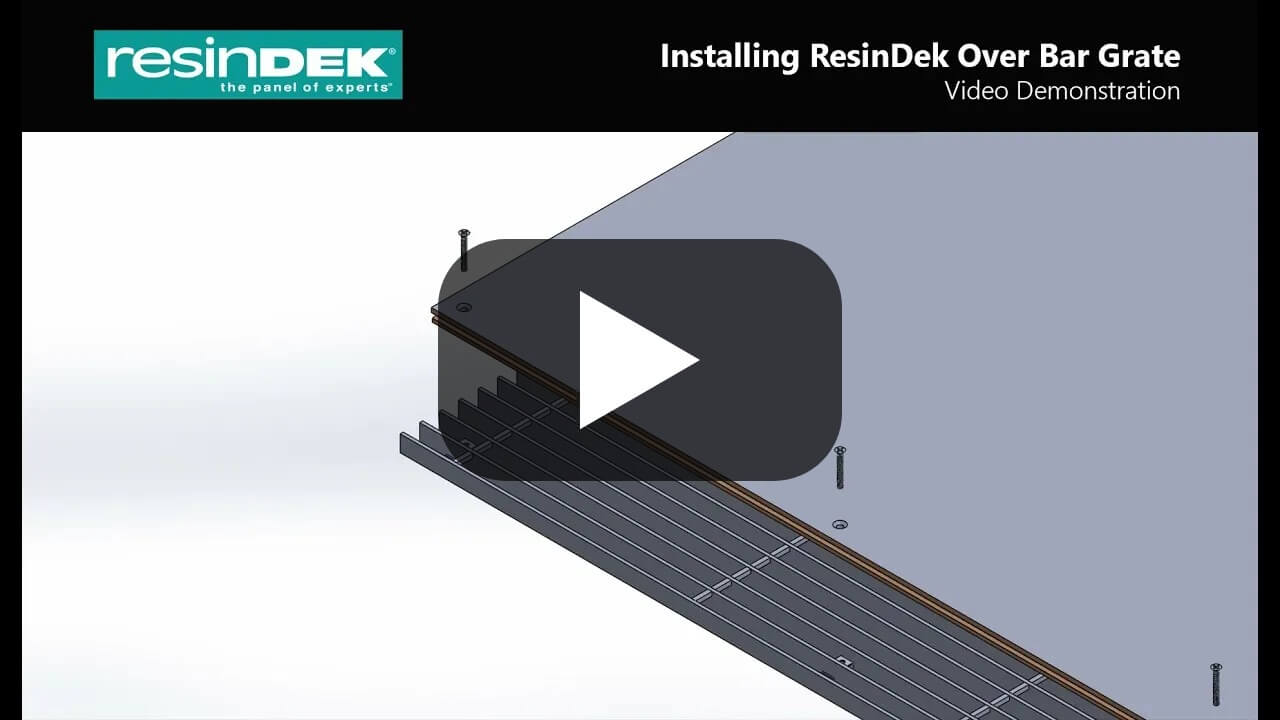 Download Instructions on How To Install ResinDek Over Bar Grate Flooring

ResinDek Over Bar Grate Installation Instructions
Contact us to see how we can help you repair damaged warehouse flooring.
---
POLY DECK
THE REWORK SOLUTION FOR POLY DECK DELAMINATION FLOOR PROBLEMS
Poly Deck Floor Problems
Pallet jack loads are difficult to roll on a delaminating floor
A delaminating floor is a trip hazard and a potential worker's compensation claim
Unsightly work environment lowers productivity
Poly deck has lower allowable wheel loads
ResinDek® Flooring Solution
ResinDek flooring panels will never delaminate and are easy to maintain
With a variety of panel grades available, ResinDek flooring panels can support pallet jack load limits from 2,000 lbs – 8,000 lbs
ResinDek panels are aesthetically pleasing with long lasting durability
ResinDek panels are backed by a 10-year product warranty
---
CONCRETE
THE REWORK SOLUTION FOR CONCRETE FLOOR PROBLEMS
Concrete Floor Problems
Carts and pallet jack loads are difficult to impossible to roll over cracked or spalling concrete floors
Concrete is expensive to replace, needs time to cure and will likely cause significant downtime
Unsightly work environment lowers productivity
ResinDek® Flooring Solution
ResinDek flooring panels can solve difficult concrete problems
With a variety of panel grades available, ResinDek flooring panels can support pallet jack load limits from 2,000 lbs – 8,000 lbs
ResinDek is supplied with a factory finish, so once ResinDek is installed it's done
Cleans easily and is aesthetically pleasing
ResinDek panels are backed by a 10-year product warranty
---
PLYWOOD
THE REWORK SOLUTION FOR PLYWOOD FLOOR PROBLEMS
Plywood Floor Problems
Plywood will splinter and delaminate, making it difficult for pallet jacks to roll across
Plywood shows stains, is difficult to clean, and uses Formaldehyde based resins
Allowable wheel loads are lower for plywood
ResinDek® Flooring Solution
ResinDek flooring panels can support pallet jack load limits from 2,000 lbs – 8,000 lbs
ResinDek flooring panels easily install over plywood, will never delaminate & clean easily
ResinDek panels are certified to contain No Added Formaldehyde and can contribute towards LEED

®