ResinDek® flooring panels, manufactured by Cornerstone Specialty Wood Products, LLC® provide a tremendous value for elevated floors in storage facilities that require durability, a showcase appearance, and ease of maintenance. ResinDek flooring panels have proven structural integrity and provide the strength you associate with a concrete floor yet can offer savings of tens of thousands of dollars. Whether you have new construction or retrofitting an existing structure, ResinDek panels offer a compelling value as well as a 10-year warranty.
How can you realize savings of up to $5/sqft by using ResinDek instead of concrete and get a product that is backed by a 10-year warranty?
ResinDek is at least 40 lbs per square foot lighter than concrete which allows for less steel to be used in the support structure, along with potential savings in the foundation and footers.
ResinDek is supplied with a factory finish so tracks can be laid for the storage units immediately after the flooring is installed. Concrete typically needs a week or more to cure before tapcons can be used to continue construction.
ResinDek has an allowable deflection of L/240 whereas concrete's allowable deflection is L/360. This creates a more ergonomic platform and again allows for less steel in the support structure.
Material cost per square foot is less than that of concrete.
RESINDEK
®

FLOOR PANELS FOR SELF-STORAGE FACILITIES

Backed by a 10-year product warranty, ResinDek composite engineered wood panels have proven structural integrity to support live and dead pallet jack loads from 2,000 – 8,000 lbs. and easily support 125 psf uniform loads. ResinDek panels are custom manufactured and available in sizes up to 4' x 10'. ResinDek panels have been independently evaluated and approved for use in Types I-V construction and as part of a fire-resistance rated assembly by the IAPMO Uniform Evaluation Services. United States ER Number 467. Canada ER Number UEL 5027.

We recommend that a minimum of 20-gauge corrugated metal B Deck or 20-gauge N-Deck be used on all ResinDek® flooring projects (except for Xspan®) and a minimum of 18 gauge when live and dead loads exceed 2,500 lbs. ResinDek Xspan and Xspan FR do not require a corrugated metal deck. ResinDek flooring panels LD, MD and HD are ¾" thick, ResinDek Max is 1-1/2" thick, and ResinDek Xspan and Xspan FR are 1-1/8" thick.
---
RESINDEK
®

FLOOR FINISHES

Specify a durable, industrial coating or encapsulated steel surface in high traffic areas such as the opening to the freight elevators. These surface options also provide high resistance to slips, stains, and liquids.

FOR HEAVY EQUIPMENT, STORAGE, ROLLING CARTS & PALLET JACKS
RELATED VIDEOS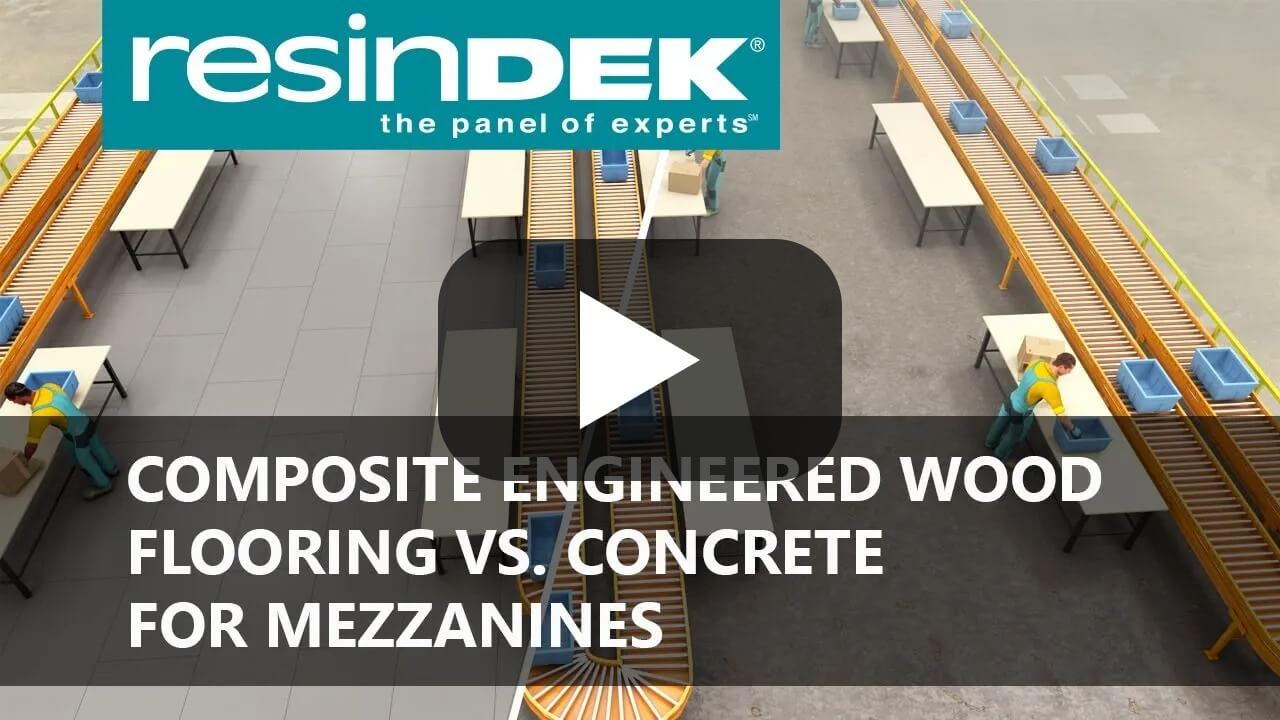 Experts Weigh-In on Mezzanine Flooring Options [ResinDek® Panels vs. Concrete] | Video Length: 3:26
RELATED SUCCESS STORIES