At Cornerstone Specialty Wood Products®, we know and understand the importance of having the right flooring product for the right application. That's why we offer a variety of ResinDek panels in different thicknesses, densities, and with different surface finishes.
Since 1994, ResinDek flooring panels have been installed in distribution centers, warehouses, manufacturing plants, and cold storage facilities for major corporations worldwide. The intent of Cornerstone Specialty Wood Products then and now is "We don't just make better mezzanine floors…We make mezzanine floors better". We strive to provide solutions that improve the ergonomics in work environments, reduce environmental impacts, and bring significant value to the professionals in many different industries.
With this objective in mind the team at Cornerstone Specialty Wood Products is committed to:
Better products with easier installation
Application-specific flooring for all industries
Excellent field support and product testing
LEED

®

and FSC

®

certified products
Material and labor savings for customers
RESINDEK
®

FLOOR FINISHES FOR HEAVY EQUIPMENT, ROLLING CARTS & PALLET JACKS

Choose from Gray Diamond Seal®2 the industry choice for heavy rolling pallet jacks, ESD when electrostatic dissipative is required, or MetaGard® GVT with a steel surface for aggressive dragging areas such as pallet flows or drop zones. If you are looking for the most economical flooring solution that still comes with a 10-year product warranty, then specify ResinDek UF.

Be sure to ask us how to design a hybrid flooring solution that is extremely cost-effective and tailored to meet the needs of each individual project.
---
RESINDEK
®

FLOOR PANELS FOR HEAVY EQUIPMENT, ROLLING CARTS & PALLET JACKS

Backed by a 10-year product warranty, ResinDek panels have proven structural integrity that supports live and dead pallet jack limits from 2,000 – 8,000 lbs. All ResinDek panels are certified to have No Added Formaldehyde. ResinDek panels can contribute towards earning points for LEED® qualified buildings. When required ResinDek panels are available with FSC® Certification. FSC® License Code FSC- C124474.

We recommend that a minimum of 20-gauge corrugated metal B Deck be used on all ResinDek® flooring projects (except for Xspan®) and a minimum of 18 gauge when live and dead loads exceed 2,500 lbs. ResinDek Xspan and Xspan FR do not require a corrugated metal deck. ResinDek flooring panels LD, MD and HD are ¾" thick, ResinDek Max is 1-1/2" thick, and ResinDek Xspan and Xspan FR are 1-1/8" thick.
---
RESINDEK
®

SHELVING SYSTEM

Be sure to ask us about ResinDek Shelving System it is completely customizable, extremely durable and supports heavy case goods. Plus, it is designed to be installed without the use of hardware – saving you time!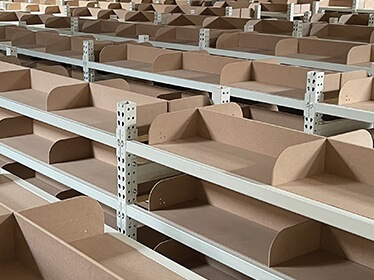 ResinDek® Shelving System
RELATED VIDEOS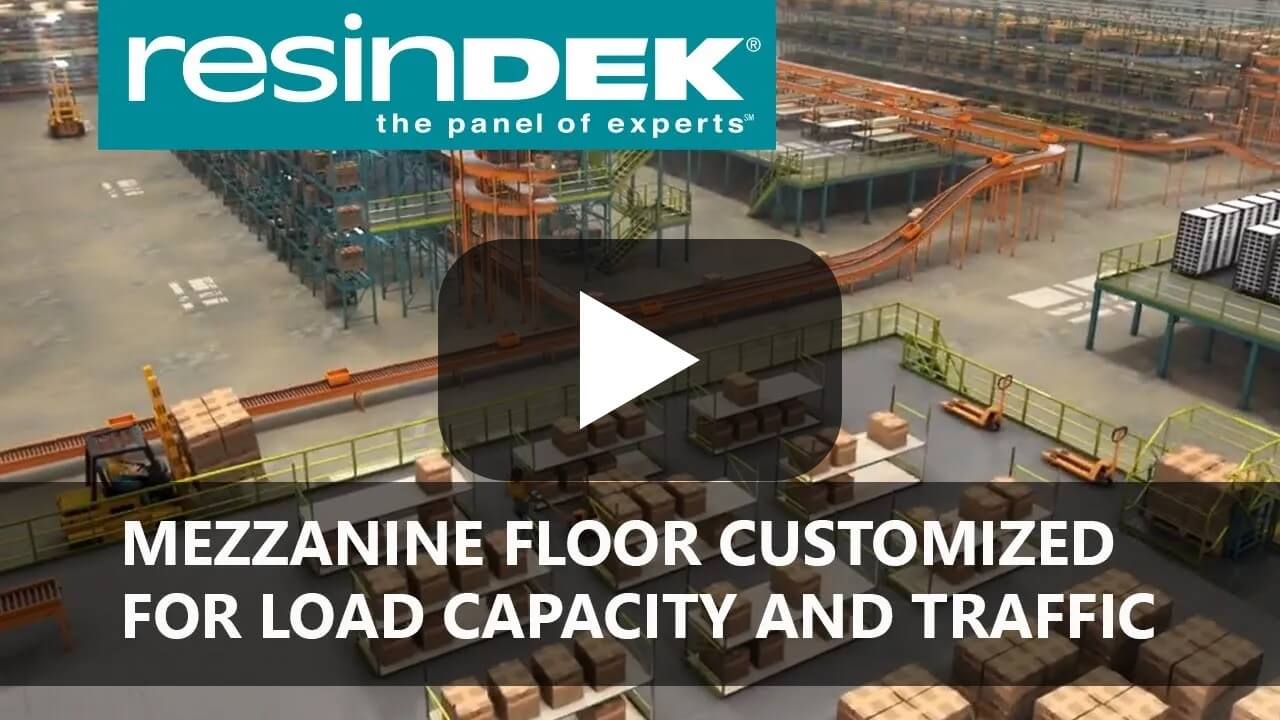 ResinDek Flooring Panels Inside a Distribution Center | Video Length: 4:09
RELATED SUCCESS STORIES